alto saxophone, bass clarinets, composition
Spinifex - 10 years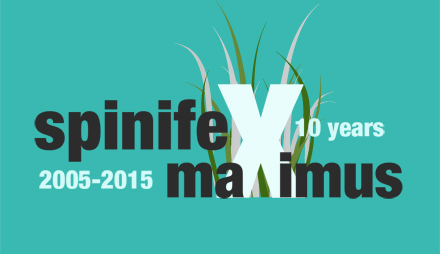 In 2015, Spinifex celebrates its 10-year anniversary. Most prominently with the spinifeX maXimus ensemble (see below), but also with the release of 2 new CDs --- one by the regular quintet and one in the 12-piece maXimus line-up --- and with the release of a 5-CD box which will include a disc with previously unreleased live recordings (Spinifex Tuba Band, Indian Spin [FX] and Bollycore), re-issues of the Spinifex Orchestra 'Triodia' CD (2008) and the quintet CD 'Hipsters Gone Ballistic' (2013).
Also, Spinifex will join the
MuzEnergoTour
:
This is an amazing project, taking place in the time span of 11 weeks, in which a large bus full of musicians will travel from Moscow to Vladivostok on the Russian Pacific Coast. Spinifex will join the tour in 2 parts: from 12-17 june in the Moscow region, and from 2-22 august, travelling from Irkutsk to Vladivostok, playing some 25 gigs along the way.
Almeida/Duynhoven/Klein
I've recently been teaming up with Gonçalo Almeida on double bass and legendary Dutch drummer Martin Duynhoven, the Boy Edgar Prize laureate of 1984. It's an acoustic trio inspired by all kinds of free adventurous music of the last 50 years...
Our first CD wil be out in september on the marvelous Clean Feed Records. We'll present the CD in september and october 2015, here are the first dates:
24 september, Pletterij, Haarlem
25 september, Tivoli/Vredenburg (U Jazz), Utrecht
4 oktober, Jazz Crooswijck, Rotterdam
7 oktober, De Ruimte, Amsterdam
8 oktober, Brebl Nijmegen
11 oktober (16h), Artuarium, Den Bosch



Best to watch in HD setting:


spinifeX maXimus
10 year anniversary — spinifeX maXimus
In 2015 Spinifex celebrates its 10-year anniversary with a very special ensemble: spinifeX maXimus. The current quintet line-up, which has received enthousiastic reviews for the recent cd Hipsters Gone Ballistic, will still be Spinifex Maximus' nucleus and its defining force, but the ensemble will joined by seven extraordinary musicians from Europe and the US, opening the doors to an even wider range of dynamics, new orchestral colors, creative energy and joyful improvising.

Spinifex
Piotr Damasiewicz – trumpet
Tobias Klein – alto saxophone / clarinet
Jasper Stadhouders – guitar
Goncalo Almeida – bass
Philipp Moser – drums

Maximus: joined by
- Bart Maris (BE) – trumpet
- Matthias Muche (DE) – trombone
- Jeb Bishop (US) – trombone
- Pascal Rousseau (F) – tuba
- Edoardo Marraffa (IT) – tenor saxophone
- Josh Sinton (US) – baritone saxophone
- Onno Govaert (NL) – drums

already confirmed concert dates 2015:
27 august Fattoria Musica, Osnabrück (D), try-out concert and cd recording
28 october soundsofmusic 2015, Vera, Groningen
29 october Brebl, Nijmegen (JIN)
30 october Paradox, Tilburg
31 october Hot House, Leiden
2 november Café Wilhelmina, Eindhoven (Axes)
4 november Tivoli/Vredenburg, Cloud Nine, Utrecht
5 november Bimhuis, Amsterdam
7 november Plusetage, Baarle-Nassau
Büyükberber / Klein
[busy mind of the] lonely commuter

Oguz Büyükberber - bass clarinet, video
Tobias Klein - bass clarinet

[busy mind of the] lonely commuter is an audio-visual performance by bass clarinetist and visual artist Oguz Büyükberber and bass clarinetist Tobias Klein, both based in Amsterdam, the Netherlands.
lonely commuter reflects the everyday experience of solitary commuters who subliminally absorb the view from their moving vehicle while their mind wanders off to somewhere else.
[busy mind of the] lonely commuter features sequences of video shot in Amsterdam, Paris, Istanbul and other places, illuminating the local facets of a universal experience.




Spinifex tour in Poland, Lithuania, Estonia and Russia
In december, was Spinifex on tour again in Eastern Europe.

7 december Bajkonur, Łódź (PL)
8 december Pardon To Tu, Warsaw (PL)
9 december XI20, Vilnius (LT)
10 december Philly Joe's, Tallinn (EE)
12 december ESG-21, St Petersburg (RU)
13 december DOM, Moscow (RU)
14 december Muzenergo Festival, Dubna (RU)

Some impressions from the tour:


fantastic reviews for Spinifex CD Hipsters Gone Ballistic
The new Spinifex CD
Hipsters Gone Ballistic
was released on december 2nd 2013. It is available at
TryTone
and
CDBaby
and
i-Tunes
We presented the cd at the Bimhuis, Amsterdam, on 23 january 2014.
Hipsters Gone Ballistic
was recorded by Maarten Tap at Jottem! and mixed/mastered by Jason LaFarge at Seizures Palace. Artwork and graphic design by Gonçalo Almeida.
Hipsters Gone Ballistic
has been receiving fantastic reviews. Among others:
Eyal Hareuveni, allaboutjazz, february 2014:"All selections are played with sheer abandon and joyful passion, from the first second to the last one. All compositions feature restless shifts and complex dynamics as well as the highly collaborative and versatile interplay of this well-rehearsed quintet… no doubt, the hipsters went on a wild ride."
Tom Greenland, The NYC Jazz Record, june2014: "Hipsters Gone Ballistic opens with a driving additive rhythm in nine beats, which manages, for all its prickly accents, to instill a punk-rock vibe, something that might drive less-inhibited jazz fans to mosh.
Jan Willem Broek in Caleidoscoop, december 2013: "There is no telling what will happen and that makes the music so attractive. The energy is almost tangible and it's bursting with the joy of performing … simply sensational!"
Monsieur Délire, Monsieur Délire: "Looking for a record that hits hard and never where you expect it? Bam! Hipsters Gone Ballistic is a neverending flurry of pops to the jaw. Ultratight tunes borrowing from jazzpunk and avant-prog. With guitarist Jasper Stadhouders (also in Lily's Déjà Vu), Gonçalo Almeida on bass, drummer Philipp Moser, and most of all the dual frontline of Gijs Levelt (trumpet) and Tobias Klein (alto sax). Recommended."
Helen Moors, moorsmagazine january 2014: " Spinifex and their new album Hipsters Gone Ballistic guarantees an unprecedented adrenaline rush … they go right at it with crackling energy, unexpected turns, super tight arrangements and, within those, strangely free improvisations which constantly keep the listener in suspense … fantastic!"
Herman te Loo in Jazzflits, december 2013: "The most striking characteristic is the pounding staccato rhythm … you might blame the band for a lack of subtleness, but that's definitely not the case. The dynamic spectrum of Spinifex is big, and so is their bag of musical ideas."
A short compilation: